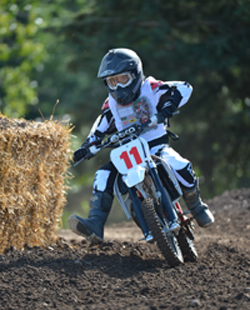 Born: 2004
Height: 5′ 1″ feet
Weight: 90 lbs.
Home town: Campbellville, Ontario, Canada
School: A- student
MX bike: 2013 Cobra CX65, 2006 YZ 85
Other Sports: AAA Hockey, Scootering
Articles: April 2013, August 2013
Sponsors: Action Brands Inc., Race Tech, ACTIONETIX, Halton Power Equipment, Cobra Canada, Terry Rowley Mechanical, MMX Powersports, Ward Motorsports

MX results:
Year

Federation

Result

2013

CMRC – Walton – Grand Nationals
MMRS Nationals
Chesterman's Arenacross

2nd 50cc 7-8, 4th 65cc 7-9
1st 50cc 7-8, 1st 65cc 6-9
1st Overall 65cc, 4th Overall 85cc

2011/2012
Chesterman's Arenacross
1st Overall 50cc Advanced, 1st Overall 65cc

2010/2011

CMRC – Walton – Grand Nationals
Chesterman's Arenacross

3rd 50cc 4-6
1st Overall 50cc Experienced, 3rd Overall 65cc

2010

Steel City riders

4th Overall 50cc Advanced

2009/2010

Chesterman's Arenacross

1st Overall 50cc Beginner
Connor started riding when he was just three years old. He quickly got the hang of his CRF 50 which he saved up $160 dollars to buy (his parents paid the rest). Learning to ride his bike on a full sized private track with adults jumping over him gave Connor a real motocross sense early on. The Honda quickly became obsolete when those around him knew Connor had other plans… plans to go fast! He was quickly upgraded to a KTM 50 Pro Senior at the young age of 4 and within weeks, was very comfortable on this completely different machine.
Connor is now known as one of the premier mini bike riders in Canada, who can challenge for a podium spot on any weekend!