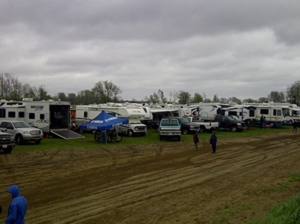 This past weekend in Southern Ontario brought out a lot of groans due to the rainy, cold weather. It was a chance to say screw it and not get outside and "have at it". It was a weekend full of excuses… and video games. Well, at Gopher Dunes motocross track it was a different story. Trucks, trailers and campers rolled in regardless of the weather and families unloaded the bikes to set out on a great day of racing.
The word commitment swirled around my head as I watched some amazing racing from the 50cc bikes up to the MX1 Pros. In the blustery rain and near freezing conditions, men, women, boys and girls all committed as a family to their chosen Action Sport. Sure there were some moments that didn't go as planned which brought out the tears on occasion, but at the end of the day mothers, fathers, sons and daughters made their commitment to themselves and those around them. Because if no one shows up… no one wins.
Let's keep Action Sports growing with the a burning commitment to getting out and making it happen.
Craig Stevenson