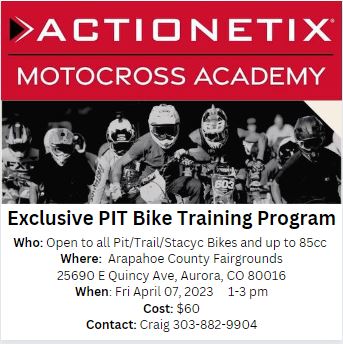 Who: All Pit/Trail/Stacyc bikes and up to 85cc 2-strokes
Where: Arapahoe County Fairgrounds
25690 E Quincy Ave, Aurora, CO 80016
When: Friday April 07, 2023 1-3 pm
Cost: $60
Contact: Craig 303-882-9904 | info@action-brands.com
It's coming!
We're working with the @colopitbikeseries to bring you high-level, specific training to maximize your results on pitbikes and also help prep you for Arenacross and Supercross this upcoming season.
Training sessions are focused on the unique techniques for tight coursed racing.
– Body position for jumps and corners
– Turn techniques including break turns
– Start techniques for auto and standard clutch bikes
– How to set up passes
And sooo much more!
This is the same track you will race the next day at the @colopitbikeseries race.
$60 per rider – time and location above. Limited to 12 riders.
Reserve your spot by contacting Craig at 303 882 9904 or info@action-brands.com